One of Thrive's regular client gardeners, Phil Banbury, is a shining example of how, with the charity's help and the love of family and friends, there is still much happiness to be had whilst living with a disability.
A former physicist and university lecturer, when Phil was told he had Alzheimer's, the diagnosis came as no surprise.
At first, several symptoms were put down to ageing as it's a disease that often develops slowly over many years and is not always obvious at the start. However, being an intelligent and scientific man Phil had already suspected that all was not right, so when the diagnosis was made after seven years of experiencing difficulties, he took the news quite well.
Being physically active has always been important to Phil and his wife Jean who were already keen gardeners, growing their own vegetables and looking after two raised beds at home. Up until a few years ago they also had an allotment which they had lovingly tended for 18 years.
When their local Memory Clinic run by the NHS told them about Thrive, the idea appealed to both of them. Now Phil attends weekly and Jean says the impact has been noticeable.
"There are the inevitable changes with Phil because of his Alzheimer's – even making a cup of tea is becoming a chore. Sometimes I say to Phil 'I miss the old you' and he replies 'so do I'. But knowing Phil loves coming here, is enjoying himself and is so well looked after makes me very happy and also means I can have a few precious hours to myself," wife Jean.
For Phil, his visits to the Thrive gardens in Beech Hill, near Reading, provide a sense of adventure within a safe and supportive environment. The exercise helps him sleep at night and his circulation has improved. Thrive focuses on personal achievement and with the support of horticultural therapist Vicki, Phil has become highly proficient at potting on! Vicki, said: "I first met Phil last year when he joined our weekly Dementia Group for the summer here at our Trunkwell Centre in Beech Hill. Phil enjoyed it so much, his wife Jean felt he would miss it if he stopped, so he has carried on throughout most of the winter.
As long as he doesn't need to tackle tasks involving bending, Phil is very capable, so we use raised beds and potting benches to make everything accessible. The weather can be a challenge at times so we create enjoyable indoor craft projects such as making lavender bags from the flowers we grew in the summer.
Phil's so helpful and it's a joy to see his confidence build as he tackles new tasks. Recently he chose flowers from the Thrive garden and made a posy for his wife. He can't manage to order flowers for her anymore so it was touching to see the care he put into this. It certainly brightened Jean's day when he got home!
If you've been moved by Phil's story and would like to help, please make a donation to Thrive here. http://www.thrive.org.uk/donate-to-thrive.aspx
Thompson & Morgan will also be selling Sweet Pea 'Eleanore Udall' in 2016, with sales going towards Thrive training programs at the charity's four regional centres and local community venue.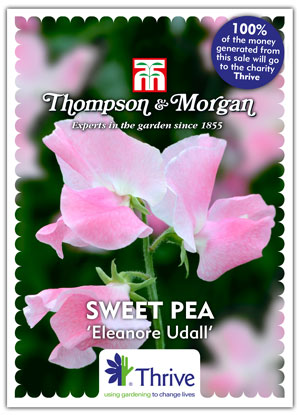 Gardening with Alzheimers or Dementia
With careful planning, people with Alzheimers and Dementia can undertake a wide range of activities. As the illness begins to show signs of deterioration people can continue to garden at home, however, it is best to have a structure in place so stimulation can still be gained in a safe way, although this maybe in a different way.
Before you start the following points need to be considered. Activities need to be planned for short sessions, e.g. 1hour or less and have an element of fun to them. This can support the individual to remain focused and engaged. Sometimes things may not work, but you must not give up hope.
Activities can include:
Planting a large pot with a choice of plants chosen by the individual, this can encourage an individual to take ownership of their pot
The choice of plants can provide opportunities for the individual to reminisce. Especially, by choosing old varieties, or heritage seeds. A wider variety of plants can also trigger people's memory
Growing vegetables to prepare and eat the produce
Care of plants can provide the individual with a valuable role, such as weeding or watering
Seed sowing is a focused job, and can allow people to learn new skills, especially if they are passionate and motivated about the subject
Indoor gardening, for people who may be in the more advance stages, such as table top gardening which could be propagation or harvesting vegetables in pots
Caring for indoor house plants can be an easy introduction to gardening, eg propagation of Spider plants (Chlorophytum comosum)
Many activities can be chosen to increase mental awareness and stimulation, but essentially they must all bring a sense of fun into the activity. Bringing the family together can also contribute to the learning experience
For hints and tips on how gardening could help you or somebody you know visit www.carryongardening.org.uk or the main website www.thrive.org.uk