Couldn't get tickets for the opening weekend of Fifty Shades of Grey? Get out in the garden instead; try our Fifty Shades of Green this season!
We now offer a range of over 300 mature shrubs and perennials for instant impact in your garden. No garden should be without hassle-free herbaceous perennials; they return each spring and require little help to put on a stunning show. Here is part 1 of our 50 shades of green series, giving you our top 25 varieties from our instant gardening range that are sure to set your pulse racing.
1. Our first shade of green is Euonymus fortunei 'Emerald 'n' Gold'! This RHS AGM variety is an attractive evergreen shrub that makes a useful addition to any garden. Euonymus fortunei 'Emerald 'n' Gold' is a must have plants for low maintenance gardens due to its tough and versatile habit, thriving in almost any position.
2. Lavender 'Hidcote' is one of the nations best known varieties of English Lavender. The fragrant stems of Lavandula 'Hidcote' are ideal for drying and cutting. The nectar-rich flowers will also attractive bees to your garden.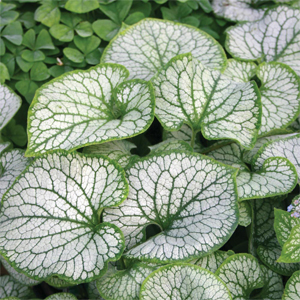 3. Brunnera Macrophylla 'Jack Frost' boasts heart-shaped, silver leaves that will brighten up any garden.  'Jack Frost' is a quick growing and resilient hardy perennial,that makes a fantastic ground cover plant in those tricky shady areas.
4. Mahonia aquifolium is a shade of green that offers all year round interest. Mahonia plants are the ideal choice for security planting due to their prickly habit.
5. Choisya ternanta, otherwise known as Mexican Orange Blossom, is a popular choice for the evergreen foliage. Their shiny green leaves and accompanied by white fragrant white flowers from late spring and then flowering again in late summer and autumn.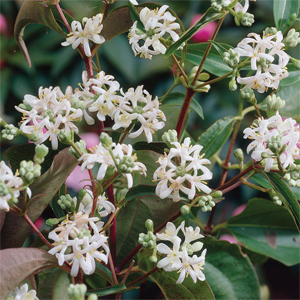 6. Veronica prostrata 'Aztec Gold' Ground cover so bright you'll need sunglasses.
7. Laburnum Anagyroides looks spectacular even when it is not in flower. Long racemes and silvery pods makes this variety an ideal plant to grow over an archway.
8. New for 2015 is Weigela florida 'Monet'. This compact shrub is perfect for smaller gardens. Soft pink flowers compliment the green foliage and makes a reliable and tough addition to your borders.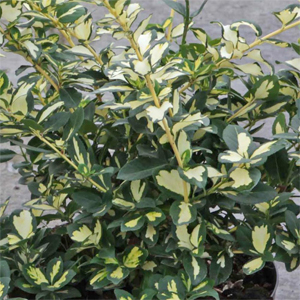 9. Sorbaria sorbifolia 'Sem' A compact shrub that looks superb in the middle of borders or in a pot on the patio.
10. Mint 'Gingermint'  is a shade of green you don't want to leave out of the herb garden. These plants are rich in nectar which will attract bees to your garden. You can grow mint in perennial borders, herb gardens and also summer containers.
11. Tradescantia 'Bilberry Ice' is a new selection, emphasising berry-coloured florets surrounded by green sword-like foliage.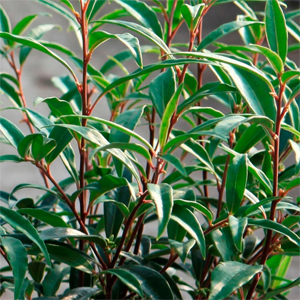 12. Fragrant flowers should be grown in every garden. Sarcococca hookeriana var. digyna emits a powerful fragrance throughout winter and thrive in deep and partial shade. Sarcococca can be grown into a low hedge similar to Box. In fact, it is sometimes known as Sweet Box or Christmas Box.
13. Spiraea 'Arguta', also known as Bridal Wreath, is smoothered in white flowers which will appear each spring. An easy to grow, deciduous shrub with a fast-growing habit.
14. Cornus alba 'Elegantissima'  adds a cool shade of green in the bleaker months. The ideal shrub to add winter colour in your garden.
15. Pleioblastus argenteostriatus f. pumilus Low-maintenance and evergreen, with deep green leaves and red-flushed canes.
16. Euonymus fortunei 'Blondy'  boasts golden yellow and green foliage giving you a striking display. Euonymus plants will thrive in any position as this evergreen variety is durable and extremely tough.
17. Heptacodium miconioides is an unusual shade of green for the garden. But it's exotic appearance and hardy nature makes it very appealing.
18. Cornus Canadensis A very pretty ground cover plant for using in problem areas of the garden.
19. Garrya elliptica is perfect for a sunny or shady position. It's unique shade of green is hugely attractive and the tough foliage makes this plant an ideal addition in winter gardens.
20. Veronica prostrata 'Aztec Gold' is unique with golden green leaves contrasting blue flowers from the beginning of summer.
21. Festuca Glauca 'Elijah Blue' An easy to grow evergreen plant for patio pots, borders and rockeries.
22. Hosta undulata var. undulata. The bright green leaves have a curious, twisted growth habit which gives them a fascinating appearance.
23. Cornus Canadensis are herbaceous, and form a dense mat of oval leaves, produced in whorls on stems only 15cm (6″) in height. Plants will create a weed-beating blanket, and are good for planting beneath trees and shrubs.
24. Pachysandra terminalis 'Green Carpet'
25. Carex oshimensis 'Evergold' is a sun-loving ornamental grass with evergreen, slender leaves, etched in green and gold. Carex 'Evergold' can also be planted into shade, where it will brighten up a dark corner.